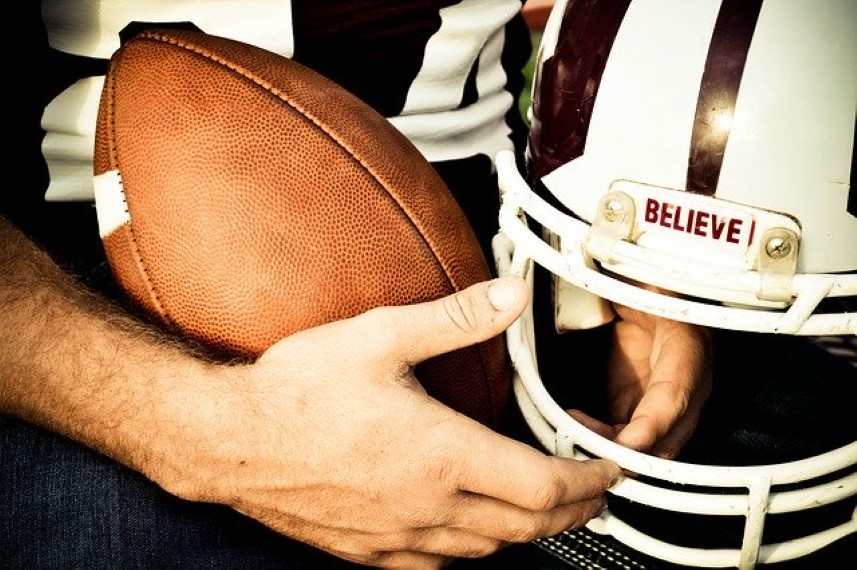 Some think that college football is second-class or that it's like the minor league to the pros. Well, we think those fair-weather fans don't know what they're talking about. Anyone turned upside down for football understands that the NCAA adds the most no-frills bang for the buck.
It is true, the glorious game of college football has lost some of the spotlights since the NFL's inception in 1958. But its backseat position doesn't leave it overshadowed. Many diehard football fans and students alike are drawn to the less-flashy gritty approach where the players aren't overpaid and have a lot on the line that extends past the game.
Before the NFL, college football was the only game in town – a controversial game loved by few and hated by many. Regardless of stances, all eyes were on it.
Early Days Of Mob Football On Campuses
Throughout the 19th century, the games resembling football being played on campuses were notoriously violent and players were often left crippled or seriously injured.
In college football's earliest form, you never knew if it was going to be a game of soccer, rugby, or some mixture of both. It was highly unorganized and started as being played intramurally.
1820 – Students at Princeton University played a game called "ballown".
1827 – "Bloody Monday", A Harvard tradition began.
1930s – Dartmouth played a game called "Old Division Football".
1860 – "Bloody Monday" was banned by both the police and the university. The same year Yale bans mob-style football on its campus.
College Footballs Inception
After the game's reputation caught a black-eye, matches had become more than intramural. Students began to reach out to students from other universities to challenge them to a game. The other school either accepted or declined. Games were played anywhere there was room for it, whether a baseball field or elsewhere.
1869 – Rutgers meets Princeton for the first-ever intercollegiate football match. This game closer resembled soccer and was played with a round ball.
1870 – Columbia University becomes the third university to form an official football team followed shortly by Yale.
1872 – Football is back at Harvard. This year they meet McGill to play their brutal version of "Boston Football".
1873 – Rules and guidelines were laid out in New York City by the schools with established teams. Harvard refused to attend because they were set in their ways of "Boston Football" which was an anything goes violent match where you could kick the ball down the field among other differences.
1873 – College football made its way to the South when Virginia threw its hat into the ring. Over the next few years, several other teams would pop up.
1876 – The Intercollegiate Football Association was officially formed and new rules were set in play.
1878 – A student with some pull from Yale was getting fed up with the game's mob-style and constant change of rules. This student was Walter Camp, known endearingly as the "Father of American Football". Walter is responsible for many of the game's modern-day rules, from scorekeeping to the dimensions and size of the field.
Walter played a hand in the game's many rule changes well after his graduation and right up to his death in 1925.
1879 – Football was let loose off of East Coast campuses and made its way to the Midwest. Michigan and Racine College were the first teams west of Pennsylvania, shortly followed by the University of Chicago, Northwestern University, and Minnesota.
1888 – Football reaches the Golden State. USC formed an official squad, followed by a Southern California league composed of Caltech and smaller schools. Stamford forms in a team in 1891 and Walter Camp is invited to come to coach them.
1890 – College football comes to the Rockies when Colorado forms a team. In 1905, Utah follows.
1895 – Football establishes itself in the Oklahoma territory. This year the Sooners would challenge smaller private schools and even high schools.
The Birth Of The NCAA
By the turn of the century, there was both good news and bad news. The good news was that football was no longer a regional sport, it had firmly planted itself nationwide. The bad news was that it had become even more bloody than its mob-style roots. It had become deadly.
From 1890 to 1905 there were 350 reported fatalities from injuries sustained on the field. In 1905 alone there were 19 deaths. That same year the situation had gotten so out of hand that schools began to remove their football programs.
The situation was so dire that even President Theodore Roosevelt had gotten involved. Metering with Yale, Harvard, and Princeton, the President played a hand in setting new rules that would decrease player injury.
The situation comes to a head in 1905 and President Roosevelt's involvement was good. This lead to several other rule changes and the formation of committees that gave birth to the NCAA in 1910.
The rest is history. Or should I say, the rest is still constantly changing all of the time? The NCAA and the way it operates, especially in post-season, is an ongoing evolution that is still in flux today.