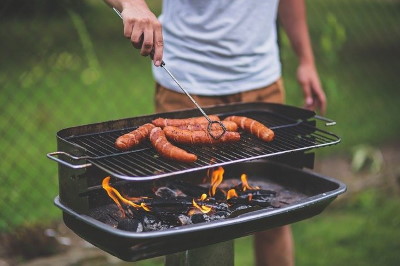 Have you ever showed up to a college football game unprepared? No, I don't mean forgetting your ticket or to pack a coat but this is almost as frightening. I'm talking about with the only kickoff on your mind, forgetting entirely about one of the game's most important elements – the tailgate.
Showing up unprepared to the pre-game festivities is frightening — the stuff that nightmares are made of. This is why over the ages man has evolved to become a tailgating pro, having once felt what it's like to be unprepared for such an important life event.
You may have found yourself left posted up against your car scratching your head. Perhaps a college football fan with some empathy extends goodwill to you and brings you a beer and burger, inviting you to join the group. While you're thankful, a part of you still can't help but to be envious – looking at the tailgate professionals set-up and asking yourself, "why didn't I think of that?".
Don't kick yourself. Hope isn't lost for you. You are here reading this after all.
And don't get too excited just yet champ. We know you've had you're awakening and have seen the light. You're not going to run off anywhere until you've packed, doubled-checked, and then triple-checked that you did indeed pack these items mentioned below.
First, Check The Weather
Well, this seems like a no brainer. Perhaps clothing is the least exciting item that we're going to be talking about here. But checking the forecast is important for several reasons beyond clothing.
If you're blessed enough to have a warm day you're going to want to make sure you bring yourself a koozie to keep that beer cold. Ahh, you didn't think of that, did you? That is unless you're already a tailgating pro.
• Check your local weather forecast.
• Bring your weather appropriate clothing.
• It can't hurt to bring more layers than may need. Depending on where you're at, the weather can turn on the drop of the dime. You can always leave the extra layers in your car if you need to. Better safe than sorry.
Aside from clothing, the weather will dictate if you should bring with these tailgating items that solidify your presence as a professional:
• Sunscreen for the melanin impaired
• Tents are nice no matter the weather but will be your protective fortress against the elements – sun, rain, sleet, or snow.
Below are more tailgating essentials that will equip you for a good time and the respect of your peers.
Cooler
Even if the weather is chilly you'll still need to put the food and drinks somewhere. Plus, people with coolers just look like they know what they're doing. That they have a firm grasp on life and a more-than basic understanding of a good time.
When it comes to a cooler it's the bigger the better. House all of your meats, condiments, and sides and if you're anything like us – more than enough drinks than are necessary.
This is important for your stomach and quality of life but you also want to be a gracious host when you can be. Be a cool guy or a gal and hook a neighbor up with a beer or a brat. Show them that you care and that you do tailgating so well that it's no sweat off of your back to break a little bread with your brother or sister.
Want to be a real master: share a drink with a fan from the opposing team.
Grill
It doesn't matter if you have a mini-Webber or you're showing off with the state-of-the-art grill that you rolled in. A grill is a grill. What's important is that you at least have something to get the BBQ going.
What also doesn't matter so much to us is if you're a first-class chef serving up turkey legs and other exotics or a proud novice tossing on some J-ville's as per tradition. The details just aren't as important as the act of grilling is itself.
Beverages
Without the beverages, you might as well use the cooler as a seat and the Webber grill top as a frisbee.
Drinks and food inside of the stadium are likely to cost way more than they are worth. We recommend eating and getting your drinks in you before the game begins.
You can never pack enough. It's better to be safe than sorry.
Chairs
Lawn chairs, patio chairs, hammocks, we don't care. Nothing says "chilling" more than being seated like a boss at the tailgate. Who knows, you might be so enthralled you find yourself on your feet the entire time. If this is the case you can use the chair as a symbol – a symbol of a person who knows how to relax and do the tailgate thing right.
A chair signifies that this isn't your first rodeo, that you're one who's prepared for anything – a master.
Generator
A generator might be necessary for some and their all-out tailgating extravaganza. We're firm believers that only the essentials are needed. But we're also not haters. We admire the person who thought it through enough to bring with a generator. You never know what you'll need one for. A little bit of electricity can go a long way.
Speakers
Music is a must. There will be enough sound around to keep the ears occupied, but these are the days of your life and memorable moments like this deserve a soundtrack. Make sure you or someone close to you is bringing the audio and a playlist.
And of course, a Football
Tossing around the old pigskin is a bonding routine that goes back as far as we were kids – friend to friend or father to son. Spend time with your best buds while soaking up the tailgate vibes and getting yourself in the mood for some football.
Now That You Know What To Bring Don't Forget It At Home
Whether you're a tailgate vet and this information is second-nature or you're new to the scene and searching for ways to tailgate right, this list of tailgate essentials will make sure that you're doing right and tailgating like a pro.